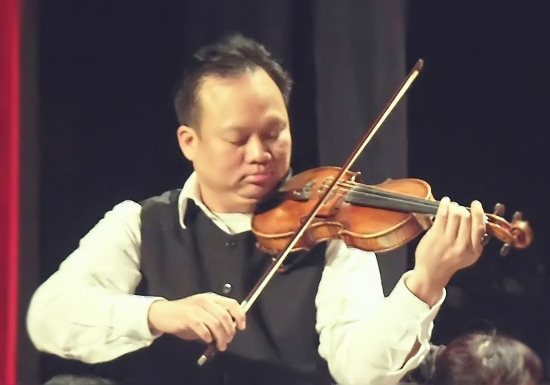 Praised for his "exquisite playing" by Pulitzer Prize-winning composer Yehudi Wyner, violinist Chuong Vu has performed as a soloist, recitalist, and chamber music collaborator in North and South America, Europe, and Asia with repertoire ranging from early baroque to modern music. The Saigon Times writes that "Chuong Vu is an instrumentalist to treasure. Not only does he play with exquisite tone and superb technical virtuosity, but he also clearly loves the music, and loves playing it."
Recent solo engagements include performances of the violin concertos by Bach, Barber, Bruch, Sibelius, Valentini, Vivaldi, and He Zhanhao and Chen Gang, the Double Concerto by Brahms and Mendelssohn, the Triple Concerto by Beethoven, Sinfonia Concertante by Maurer, and the music by Rimsky-Korsakov, Saint-Saens, and John Williams with Plano Symphony Orchestra, Richardson Symphony Orchestra, San Angelo Symphony Orchestra, Wichita Falls Symphony Orchestra, Sun Taipei Philharmonic Orchestra, Hanoi Philharmonic Orchestra, Ho Chi Minh City Symphony Orchestra (HBSO), Sun Symphony Orchestra (Hanoi), Vietnam Classical Players, and Vietnam National Symphony Orchestra under the directions of American conductors Clay Couturiaux, Hector Guzman, and David Itkin, English conductor Christopher Zimmerman, Finnish conductor Kalle Kuusava, French conductors Nathalie Marin and Olivier Ochanine, Japanese conductor Honna Tetsuji, Lebanese conductor Fouad Fakhouri, and Taiwanese conductor Ai-Kuang Sun.
An avid chamber musician, Chuong has been heard at Festival Internacional de Música do Pará, Enflama Festival, Boston Early Music Festival, Manchester Music Festival, Texas Music Festival, Vietnam Connection Music Festival, and Autumn Melodies Art Festival as well as at concert series such as Fine Art Chamber Players, Live at Dallas Steinway Hall, Melange Musical, and Chamber Music International.
Chuong's solo and chamber music performances have been broadcast live on Ho Chi Minh City Television, Vietnamese National Television, and Brazilian TV Cultura Canal 2. Further highlights include a solo performance of the U.S. National Anthem with the Open Classical Orchestra for an audience of more than 40,000 at the national-televised Texas Rangers game at the Globe Life Park in Arlington on July 29, 2016 and appearances as the featured soloist with HBSO, performing the violin concertos by Barber and Sibelius at the special concerts to celebrate 20 years of Vietnam – U.S. diplomatic relationship and 100 years of Finland's Independence Day, respectively.
As an orchestral musician, Chuong is currently concertmaster of the San Angelo Symphony Orchestra and the VASCAM Ensemble. He has served as guest concertmaster of the symphony orchestras of Amarillo, Irving, Monroe, and Wichita Falls, and the Vietnam Classical Players. Other ensembles he has played with include Dallas Symphony Orchestra, Dallas Opera Orchestra, Fort Worth Symphony Orchestra, and Oklahoma City Philharmonic, among many others. As a Baroque violinist, Chuong has collaborated with early music ensembles including Houston Chamber Choir, Mercury Baroque, Orchestra of New Spain, Texas Camerata, and Fantasmi Baroque Ensemble.
Chuong Vu holds a bachelor and master degree from the University of Houston, a graduate artist certificate and doctorate from the University of North Texas. His principal teachers include Fredell Lack, Emanuel Borok, Philip Lewis, Albert Muenzer, Cynthia Roberts, Nguyen Anh Giang, and Bui Cong Thanh. A passionate teacher himself, Dr. Vu has cultivated a number of talented young students, some of whom recently were accepted into music programs at Indiana University, Eastman School of Music, University of North Texas, and Columbia University. Dr. Vu has held teaching positions at the University of North Texas and the University of Texas at Arlington and given masterclasses in the US, Brazil, Germany, Taiwan, and Vietnam. He served as the Deputy Chair of the Organizing Committee and jury member of the 2019 Vietnam International Music Competition for Violin and Chamber Music.
As the Artistic Director of the Vietnam Connection Music Festival and the Dallas – based International Chamber Players, Dr. Vu is actively involved in the process of finding new sponsorship for the organizations, creating music programs to be performed at the festival, and inviting international artists to the festival. Dr. Vu is married to Dr. Szemoke Jobbagy, the associate concertmaster of the Plano Symphony Orchestra. They live in North Texas with their children Elizabeth and Benjamin.