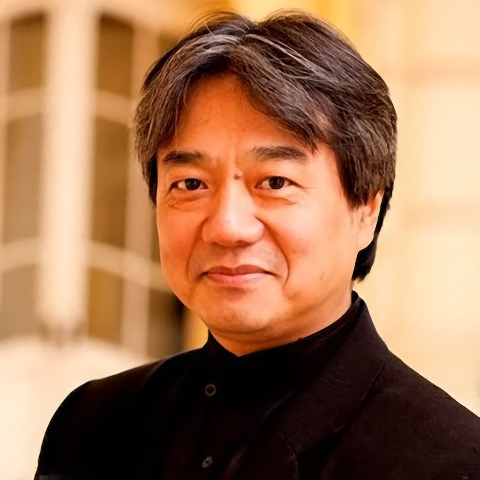 Maestro Honna was appointed Permanent Conductor of the Osaka Symphony Orchestra (1995 – 2001), Principal Conductor of the Japan Chamber Orchestra (1993 – 1997), Permanent Guest Conductor of the Nagoya Philharmonic Orchestra (1998 – 2001), and Music Advisor and Conductor of the Vietnam National Symphony Orchestra (2001 – 2009). He has been Music Director and Principal Conductor of the Vietnam National Symphony Orchestra (VNSO) since 2009.
Maestro Honna's major awards and achivements include 2nd prize of the Tokyo International Music Competition for Conductors (1985), 2nd prize of the Toscanini International Conducting Competition in Parma, Italy (1990), 1st prize and the Bartok prize of the Budapest International Conducting Competition (1992), Muramatsu Prize (1994), Nippon Steel Music Award – Best New Artist (1995), Osaka Stage Arts Encouragement Award for the All Symphonies of Franz Schubert cycle (1997), Ambassador Prize of the Embassy of Japan in Vietnam (2009), Foreign Minister Prize of Japan (2011), and Medal by Vietnamese Ministry of Culture, Sports & Tourism (2012).
In 2000 Honna led the Nagoya Philharmonic Orchestra on "TOYOTA CLASSICS" tour of 8 Asian coutries, including Korea, Taiwan, Philippines, Vietnam, Singapore, Malaysia, Thailand and Brunei. He also led the VNSO on its first American Tour at New York Carnegie Hall and Boston Symphony Hall (2011), its first Italian Tour at La Fenice Venice, Teatro Maggio Florence, and Capella Paolina at the Italian Presidential Palace (2013), and its first times on the stages of the Grand Hall of the Moscow State Tchaikovsky Conservatory and the Grand Hall of the Saint Petersburg Philharmonia in Russia (2014).
Maestro Honna has conducted almost all of the major orchestras in Japan and numerous orchestras worldwide including Philharmonica della Scala in Milano, Orchestra Sinfonica dell'Emilia – Romagna Arturo Toscanini, Mozarteum Orchestra Salzburg, Philharmonia London, Hungarian State Philharmonic, Hungarian Radio Symphony Orchestra, Budapest Philharmonic, Zagreb Philharmonic, Brno State Philharmonic Orchestra, Prague Radio Symphony Orchestra, Slovenian Philharmonic, Romanian Radio Orchestra, Malaysia Philharmonic, Shanghai Philharmonic, Schenzen Symphony Orchestra, and the Philippine Philharmonic.
He has been invited to many international music festivals including Carinthischer Sommer in Austria, Salzburg Spring Festival, Bartók Festival in Hungary, Mostly Mozart Festival in Tokyo, Seoul in Autumn, Asian Music Festival Tokyo, Oulunsalo Music Festival in Finland, Suntory Summer Festival, Ditto Festival in Seoul, Karuizawa International Music Festival "La Folle Journee au Japon," and "Milano Musica" Contemporary Music Festival at the Teatro alla Scala, among others. He has worked with world leading soloists including Martha Argerich, Elisabeth Leonskaja, Cyprien Katsaris, Peter Resel, Dang Thai Son, Philippe Entremont, Cecil Licad, Reiner Honek, Christian Tezlaff, Igor Oistrach, Maximillian Hornung, Dieter Flury, Stefan Shilli, Alessandro Carbonare, Wolfgang Tomböck, and Premysl Vojta.
As an opera and ballet conductor, Maestro Honna has directed many operas by Mozart and modern works such as "Chung Hyang" by Takagi Toroku, "Orpheo of Hiroshima" by Akutagawa Yasushi, "Momo" by Ichiyanagi Toshi, and "Satyricon" by Bruno Madera. In Vietnam, he has conducted works including opera "Co Sao" by Do Nhuan and opera "La Do" (world premiere) by Do Hong Quan, "Yuzuru" by Dan Ikuma, "Bamboo Princess" by Numajiri Ryusuke, ballet "Firebird" by Igor Stravinsky and ballet "Spider's Thread" by Akutagawa Yasushi with the VNSO and the Vietnam National Opera and Ballet.
Maestro Honna has made many CD recordings with Japan Philharmonic Orchestra, New Japan Philharmonic, Tokyo Metropolitan Symphony Orchestra, La Tempesta Chamber Orchestra (Finland), Orchestra Nipponica, and Slovenian Philharmonic.