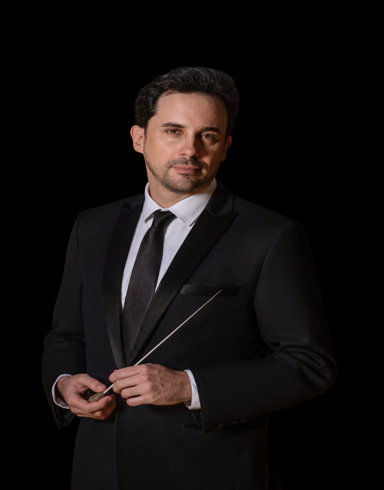 Olivier Ochanine is a French conductor and flutist, holds a master's degree in Conducting from the University of Southern California and pursued a Doctorate in Orchestral Conducting, at the Cincinnati College – Conservatory of Music.
Olivier is the First Prize Winner of the Antal Dorati International Conducting Competition in Budapest, Hungary (2015), in which he surpassed nearly 120 other conductors from 23 countries, winner of the prestigious The American Prize (2015) in the Professional Orchestra Conducting division, also Second Prize Winner in the London Classical Soloists International Conducting Competition (2015).
Regularly praised for his charisma on and off podium as well as for his breadth of orchestral repertoire, he is the youngest former Music Director and Chief Conductor of the Philippines Philharmonic Orchestra (PPO), has conducted concerts of the Vietnam National Symphony Orchestra and is regular guest conductor of the Sichuan Philharmonic Orchestra (China), and has also conducted the Cincinnati College-Conservatory Orchestras, Budapest MAV Symphony Orchestra, George Enescu Philharmonic Orchestra, I Virtuosi Italiani, Moscow State Symphony Orchestra, and Gyor Philharmonic Orchestra, among others. Olivier is currently Music Director – Conductor of the Sun Symphony Orchestra.